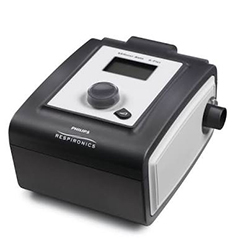 The Philips Respironics REMstar Auto CPAP
Auto CPAP machine uses algorithms that sense subtle changes in your breathing and adjusts itself to the best pressure setting at any time of the night.
The pressure range is 4-20 cm H20.
You can attach a humidifier to avoid dryness.
The price for an auto CPAP machine is 38000 approx.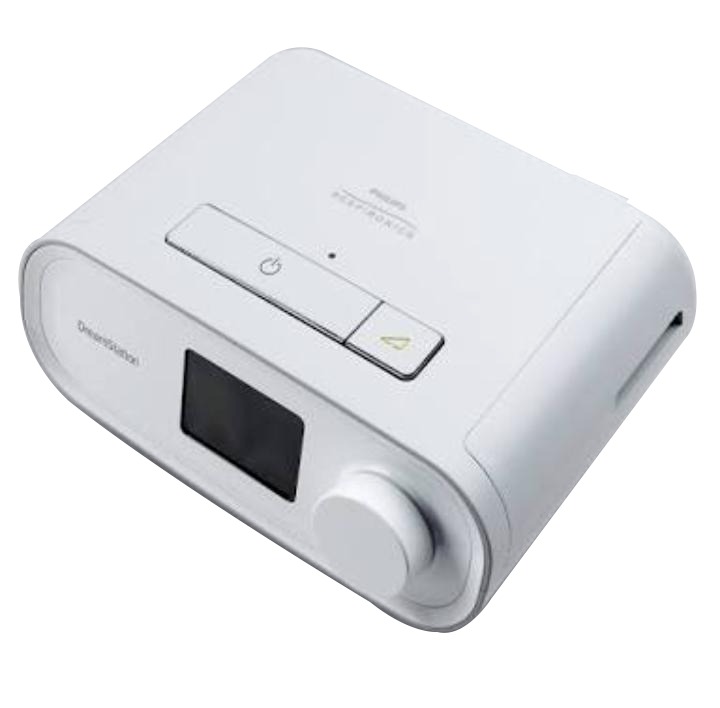 Philips Respironics Dreamstation Auto CPAP
This offers a comparatively sleeker design with additional features such as daily progress feedback which displays the length and quality of sleep.
It also offers remote monitoring options and performance check which simplifies in-home device evaluation.
The price for a Dreamstation Auto CPAP is 50000 approx.
What is CPAP?
CPAP ventilation is a treatment that uses mild air pressure to keep your breathing airways open.
Cpap machines deliver a steady continuous stream of pressurized air to patient's airways to prevent them from collapsing and causing apnea events.
After performing the sleep study, your doctor will determine the pressure settings for your CPAP machine and set the machine to deliver that exact amount of pressure continuously.
Sleep Apnea machines can be set to a single pressure that remains constant throughout the night. However many CPAP equipments have a ramp feature that starts off with a low pressure and gradually builds to the prescribed pressure.
Auto CPAP's are the new age devices in which you don't need to set the pressure manually. The machine automatically detects the need of the patient and supplies air at that pressure.
Who all can benefit from CPAP?
CPAP is mainly used by people who have breathing problems like Sleep Apnea.
CPAP may also be used in the treatment of preterm infants whose lungs have not fully developed like in respiratory distress syndrome or bronchopulmonary dysplasia.
CPAP is one of the best treatment for Obstructive Sleep Apnea (OSA). Sleep apnea is a familiar disorder that causes gap in breathing or shallow breaths while you sleep. As a result, not sufficient air reaches to the lungs. In Obstructive Sleep Apnea (OSA), your airway get collapsed or get blocked during sleep. When you try to breathe, any air that squeeze past the blockage can generate noisy snoring.
What is the use of CPAP machine in treating Sleep Apnea?
CPAP ventilation is the go treatment for Sleep Apnea. Using a CPAP machine while sleeping helps-
1. Keep your airway open while you sleep
2. Improve snoring so others in your household can sleep
3. Improve your quality of sleep
4. Relieve sleep apnea symptoms, such as excessive daytime sleepiness
5. Decrease or prevent high blood pressure
Why Homeland healthcare for all your CPAP Machine needs?
1. We only deal in CPAP machines from reputed companies such as Philips Respironics and Resmed which have been tested for use at home and are easy to maintain.
2. Our experts can help you guide the right CPAP machine based on your needs and also give you demo for the machine making it easy for you to select the machine.
3. You can choose from a variety of masks available with us to help you decide the right fit.
Cpap Machine Rentals : We provide cpap machines on rent to patients across all Delhi NCR. CPAP machine rentals are 4000 pm for an auto CPAP machine .Additional costs may incur for mask and humidifier.
Why to Hire CPAP machines or Sleep Apnea machines is a good idea?
1. CPAP on rent for trial.
Renting CPAP machine before buying it helps you try it out for a time and let you assess its worthiness before purchase.
2. Rent a CPAP for short term recovery.
Hiring CPAP makes more sense if you have been prescribed to use it for a short period of time.
3. Rental CPAP due to budget issues.
CPAP machines cost a lot if you think of buying it at once. So taking a CPAP on rent might suit some people who can't afford to buy it because cost of rental CPAP machine is very less.
What is the process of getting a Cpap for rent ?
1. Rent the Cpap
Consult with our respiratory specialist who will help you select the right CPAP machine based on your needs and budget. Choose the correct rental plan. We provide deliveries within 2-3 hours.
2. Receive the Cpap
The CPAP machine is delivered to your home by an expert who explains the functionality of the machine. Check the condition and try it on the patient who is going to use it.
3. Return the Cpap
You can either renew the rental plan next month or if you no longer need the machine you need to return the rental CPAP.
Why Homeland Healthcare to rent a CPAP machine?
1. We only provide CPAP machines sourced from reputed brands such as Philips Respironics to ensure they are reliable and efficient for oxygen therapy. Also the machines are properly serviced and cleaned to maintain proper hygiene.
2. We provide you timely service and replacement in case the rental CPAP halts or you get stuck on some functionality of the machine..
3. Our monthly rentals are very much affordable and we provide home deliveries making it convenient for you to easily try it at home before taking it.